Didsbury High School is a new secondary free school in South Manchester. The school is run by the Laurus Trust and aims to replicate the outstanding education already provided by the Trust's founder school, Cheadle Hulme High School (CHHS). CHHS, in Stockport, is a hugely oversubscribed school and was recently named in the Sunday Times 'Parent Power' Top 20 comprehensive schools in the country.
Didsbury High School is a non-selective, non-denominational free school. It opened in September 2019, initially providing 210 Year 7 places in eight forms. A further 210 Year 7 students are added each academic year. In addition, we will be opening a sixth form, for 300 students.
Our students have access to state-of-the-art facilities in a brand new building behind Didsbury Point adjacent to the Siemens building.
You can discover more about our curriculum here.
Proposed location of Didsbury High School
Head of School
Before taking up the reins at Didsbury High School, David was a Deputy Headteacher of Cheadle Hulme High School and prior to this he taught for more than 10 years in Manchester. He is a Specialist Leader of Education who supports colleagues and schools across the region. David is delighted to be the founding Head of School of Didsbury High School.
Read More
In 2008, having achieved the very highest standards of classroom practice, David secured his Advanced Skills Teacher status (AST) in Mathematics. This enabled him to share his skills and experience with other teachers across Greater Manchester. He then went on to develop and lead departments in other schools.
Soon after joining Cheadle Hulme High School, David completed his doctorate in education and now leads the Trust's Research and Development programme. Through this work he co-founded the North West One Maths Hub which works to improve the teaching of mathematics across Greater Manchester and beyond.
Having been born and raised in Didsbury, David is committed to ensuring the very best education and opportunities for the children of Manchester and firmly believes that second best for anyone simply will not do.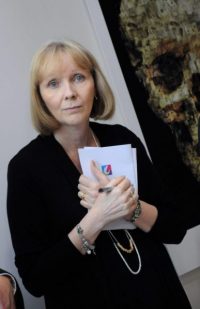 CEO of Laurus Trust and Executive Headteacher Secondaries
With a career in education spanning more than 36 years, Linda was Headteacher at Cheadle Hulme High School for 14 years, overseeing two successive outstanding Ofsted judgements. She is also an experienced National Leader of Education and an Ofsted Inspector.
Read More
Linda graduated from Manchester University with a BA (Hons) in Economics in 1978. In January 2004, she was appointed Headteacher of CHHS after spending 22 years in teaching.
CHHS is a high performing school – in the top 2% of all schools in the country based on the 2018 examination results. In both the 2011 and 2015 Ofsted Inspections, CHHS was judged to be Outstanding in all categories. CHHS is also a successful Teaching School and SCITT (School Centred Initial Teacher Training). The SCITT was also judged to be outstanding in all areas earlier this year.
Prior to Linda's move to CHHS, she spent 11 years as a Senior Leader in a variety of contexts, across six different schools in six Local Authorities.
In 2016, Linda was appointed Executive Head of CHHS, Laurus Cheadle Hulme, Laurus Ryecroft and Didsbury High School and CEO of the Laurus Trust.
Linda holds National Leader of Education status and has extensive experience of effectively supporting schools in challenging circumstances. She was appointed as an Ofsted inspector in 2013.
As a mother of four, Linda also has a strong personal grasp of the challenges facing students and their families in the current educational climate.